Usiloquy Dance Designs creates traditional and cross-cultural productions of Indian classical dance Bharatanatyam and conducts educational programs.
Usiloquy uses the ancient vocabulary of Bharatanatyam to create works of cross cultural content. It pushes traditional Bharatanatyam with universal influences in music, narration and costumes.

Usiloquy Dance Designs is the only contemporary Bharatanatyam organization of its kind in the region. It was founded in 2008 by Artistic Director Shaily Dadiala to serve the Greater Philadelphia area's need for an Indian Classical dance platform. Usiloquy builds bridges between diverse audience communities and the age old dance form that originated in the temples of Southern India.

A typical day of holistic learning and rehearsing for Usiloquy's dancers consists of stretching, vigorous practice, refinement of technique and theoretical principles.
Bharatanatyam is a highly structured, complex dance style that traces its roots to Southern India thousands of years back in time. It is a dynamic, percussive dance form characterized by striking the sole, heel and ball of the foot in countless permutations and combinations with hand gestures-'Mudras' and multidimensional arrangements of arms and legs forming at once statuesque and fluid patterns. Emphatic facial expressions and body language reflecting the theme add further layers making it a myriad collage of text, poetry and movement. A typical Bharatanatyam performance is accompanied by Classical South Indian Carnatic music, and the dancer uses elaborate silk costumes fashioned out of saris and jewelry as embellishments.
Ankita Reddy
Ankita has been dancing Bharatanatyam for 18 years, training primarily at the Natyabhoomi School of Dance in DC. She completed her Rangapravesham in 2015 and continued to dance, forming the Trishulam Group in Boston. Ankita has danced in several venues including the Kennedy Center, National Cherry Blossom Festival, and the Boston Conservatory. She also enjoys exploring other dance forms, including Bhangra, ballet, and salsa. As she continues Bharatanatyam she hopes to use movement as a lens to critically reflect upon the dance form and the diaspora experience.
Meghna Gummadi
Meghna began her dance journey in 2003 learning Kuchipudi from Shri Raja Reddy and Smt. Radha Reddy at the Natya Tarangini Dance Institute in New Delhi. After that she continued her studies with Smt. Manju Bhargavi in Bangalore until 2010 and then learned Bharatanatyam for a couple of years from Smt. Usha Prabhakar. She performed with her dance schools and at events organized by the Ministry of Cultural Affairs and Air Force in India. She returned to learning and performing with Usiloquy in 2021 while pursuing her doctoral studies in Philadelphia.
Aney Abraham
During her early education in South India, Aney received training in Mohiniyattam, one of Kerala's traditional dance forms. She performed folk style dances, including Thiruvathira, Oppana, and Kolkadi in school kalolsavams. After high school, she moved to United States where she studied modern dance at Temple University and has performed semi classical Indian dances in cultural festivals. A passion for dance has followed Aney all throughout her life. Though Mohiniyattam is still close to her heart, she returned to dance in 2013 learning and performing Bharatanatyam with Usiloquy.
Anusha Srikanthan
Anusha learned Bharatanatyam as a child in the Thanjavur style for 9 years in Chennai. During her undergraduate years at NIT Trichy, she performed as a classical dancer in the Eastern dance troupe for three and a half years. By her senior year in 2018, she was leading the Indian classical and Western dance troupe, including administrative work. Incorporating folk and classical styles, she performed as a soloist and part of the ensemble in Chennai and Bangalore at several intercollegiate competitions. She has begun performing with Usiloquy since August 2022 while pursuing her doctorate at UPenn.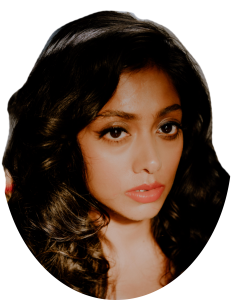 Antima Chakraborty
Antima completed her Arangetram in 2003 in Connecticut, through Smt. Padmini Ramachandran's school at the Middletown Hindu Temple. After that, she did advanced courses with Smt. Narthaki Nataraj. In college, Antima was one of the lead dancers for her school's classical dance team: Samhati Dance. While working in Boston, Antima learned from Smt. Nina Gulati where she was exposed to Kuchipudi and Odissi and performed with Triveni Dance. Once she moved down to the Tri-state area, she was part of NrityaCreations for several years as a Bharatnatyam and semi-classical dancer. She's performed in Naya Andaz, at the NJ Performing Arts Center, Atlantic City Convention Center, Sixers halftime show, Madison Square Garden, and even appeared in a Malaysian music video. Presently, Antima teaches an advanced Bollywood choreography class through Philly Dance Fitness and continues to perform in Philadelphia, New York, and New Jersey. During the day, Antima works as an attorney in Philadelphia and was recently named in the National Top 40 Under 40 Trial Attorneys.
Stay in Touch with Usiloquy
Subscribe to our mailing list to receive updates on performances, workshops, and more.
Usiloquy's work is made possible by generous support from
Usiloquy Dance Designs is a not for profit, charitable organization under section 501©(3) of the Federal tax code.
Leadership support for the New Stages for Dance Initiative is provided by
Please extend your tax-deductible donation and help Usiloquy build cultural bridges.

Check or money orders made out to:

Usiloquy Dance Designs
Philadelphia, PA 19125